Luna's Wandering Stars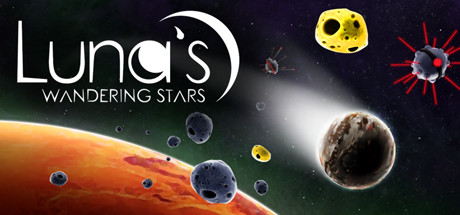 Time played: 35 minutes
Earned Achievements

A Whole New Universe
Beat the first level

Expanded Horizons
Unlock a new Planet

Expert Bowler
Beat the final Mercury level

Mercury Master
Perfect all Mercury Levels

Moon Launcher
Complete all Mercury Levels

Practice Makes Perfect


Slow Down!
Collect an asteroid cloud
Unearned Achievements

2 Birds 1 Stone
Destroy two objects with a single laser. Nice shot!

Apocalypse Survivor
Beat the final Jupiter level

Black Hole Maze
Beat the final Neptune level

Bodyguard


Certified Black Hole Creator
Complete all Neptune Levels

Conqueror of Uranus
Perfect all Uranus Levels

Curiosity Killed the Cat


Death by Black Hole
Destroy 25 different objects with a single black hole

Density Hero
Complete all Saturn Levels

Dwarf Planet Operator
Complete all Pluto Levels

Fast Gold
Get 4 Golds on Go Fast

Final Boss Defeated
Beat the final Pluto level

Galactic Explorer
Complete all Levels

Gold Digger
Collect 1/3 of all the gold

Golden Hero
Collect all of the gold!

Gravity Wizard
Complete all Earth Levels

Jupiter Champion
Perfect all Jupiter Levels

Labyrinth Cheater


Laser Engineer
Complete all Mars Levels

Laser Tactician
Beat the final Mars level

Mars Meister
Perfect all Mars Levels

Master of the Universe
100% the game

Mistakes Were Made
Destroy 5 Golds with lasers

Neptune Rockstar
Perfect all Neptune Levels

Not in My House


Perfect Gravity Shifting
Beat the final Earth level

Pluto Pro
Perfect all Pluto Levels

President of Earth
Perfect all Earth Levels

Ring Around Saturn
Beat the final Saturn level

Rocket Arena Champion
Beat the final Venus level

Rocket Scientist
Complete all Venus Levels

Saturn King
Perfect all Saturn Levels

Sharp Shooter
Snipe down 100 mines. Your shooting stats are maxed.

So Much Gold!
Collect 2/3 of all the gold

Space Debris Cleanup
Destroy a mine. You show them who's boss!
Space Director
Complete all Jupiter Levels

Speed Up!
Hit a boost

Strike
Get 4 Golds on Planetary Bowling.
Super Portal Bros
Beat the final Uranus level

Target Practice
Snipe 50 mines with your lasers. You've got a good aim!
The Most Difficult Challenge
Get 4 Golds on No Time to Explain
Venus Genius
Perfect all Venus Levels

Vrooom!
Go very very fast

Walls of Death
Get destroyed by death walls 5 times

Whoopsies


Wormhole Expert
Complete all Uranus Levels
Wormhole Traveler


You Monster!