Chroma Squad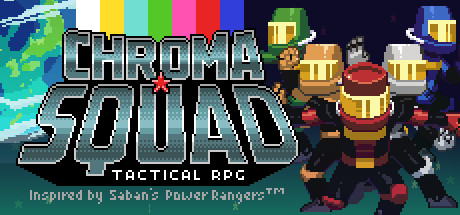 Time played: 26 minutes
Earned Achievements

Chroma Fusion
Execute a Finishing Move with basic attacks

Going indie
Complete the Prologue

Like They Do On TV
Defeat a Boss with a Finishing Move

Professional
Get maximum audience on a single episode.
Unearned Achievements

A Good Start
Complete Season 1

A Hero from Outer Space
Complete the game with the peacekeepers of the Universe

A Wild Bike and a Dive Kick
Complete the game with time travel and space trains

Almighty Changing Potent Squad
Complete the game with a new friend who finds redemption.
Are We Famous Now?
Complete Season 2

Best Costumes in the Galaxy
Craft an Alien item

Brave Hero
Complete the game on Challenging difficulty

By the Book
Complete all Director Instructions before Season 2

Can We Afford This?
Upgrade your Studio to level 2
Cardboard Mechanic
Craft a Mecha Upgrade

Cardboard Overlord
Craft a Legendary item

Chroma Beam
Execute a Finishing Move with Weapon attacks

Combo Fever
Reach Combo 9 with your Mecha

Denied
Knockdown a Kaiju on the first turn

Do They Handle Awards For These?
Craft a Mega item

Don't Ever Forget
Honor the Ahbo family

Episodes Hero
Complete 42 or more episodes in campaign mode.

Fan Favorite
Activate all available Marketing Actions

Fully Decked Out
Buy all Upgrades

Get to the Shopper
Spend $90.001 on the Shop

Going Fancy
Upgrade your Studio to level 3

Hero
Complete the game on Interesting difficulty

Heroes To Save The Earth
Complete Season 4

Hype Machine
Complete a Season with Excellent performance

I Play The Long Game
Sign a Marketing Agency for 3 weeks

I thought we were friends...


Looks Like A Real Costume
Craft a Super item

Moonstone and Citrine
Your squad is now bigger!

Save my telly!


So Meta
You didn't think we would let him run the show, would you?

Stop running!
Defeat Lord Gaga for the third time

That Escalated Quickly
Complete Season 3

This is Better
Craft an Uncommon item

Time to End This!
Complete Season 5

Tourist Hero
Complete the game on Casual difficulty

Ultimate Hero
See all endings in the game.

We Can Do This!
Defeat a Kaiju with the help of your fans

With All My Heart
Get help from outer space

With Style
Defeat a Kaiju with a Mecha Finishing Move