Atlas Reactor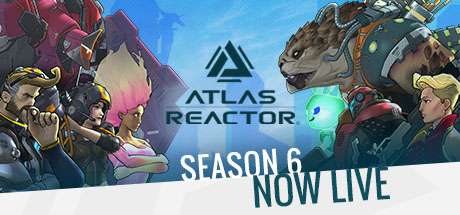 Time played: 49 minutes
Unearned Achievements

12/10 Great Doggo
Deal 200 damage with Subwoof in one game as PuP

Angel of Vengeance
Deal 300 damage and shielding with Guardian Angel in one game as Asana

Atomic Dynamo
Heal 200 damage with Positronic Surge in one game as Quark

Blow Them All Away
Deal 200 damage with Oblivion Shell in one game as Elle

Bonanza
Deal 200 damage with Safecracker in one game as Celeste
Calculated
Shield 200 damage with Blast Shield and Battleforged in one game as Helio

Covered in Bugs
Heal for 100 with Mending Swarm and deal at least 200 damage in one game as Phaedra

Dodge This!
Dodge 10,000 Damage

Exo-Potent
Deal 200 damage with Lay Down the Law in one game as Juno

Eye of the Storm
Deal 150 combined damage and healing with Heart of the Storm in one game as Aurora

Fish Out Of Water
Heal 200 damage with Refreshing Spray in one game as Dr. Finn

Flashing Steel
Deal 200 damage with Rushing Steel and Showdown in one game as Tol-Ren

Good Deeds
Shield more than 150 damage with Karmic Justice in one game as Su-Ren

Huntmaster
Deal 100 damage with Voltaic Cage in one game as Grey

Level 100
Reach Reactor Level 100

Level 150
Reach Reactor Level 150

Level 200
Reach Reactor Level 200

Level 250
Reach Reactor Level 250

Level 300
Reach Reactor Level 300
Level 350
Reach Reactor Level 350

Level 400
Reach Reactor Level 400

Level 450
Reach Reactor Level 450

Level 50
Reach Reactor Level 50

Level 500
Reach Reactor Level 500

Make It Rain Missiles
Deal more than 200 damage with Missile Storm in a game as Zuki.

Mark of the Ninja
Deal 80 damage with Mark of the Void in one game as Kaigin

Massive Attack
Deal 10,000 Damage

Master of Mayhem
Deal 200 damage with Maniacal Mayhem in one game as Gremolitions Inc

On my Mark!
Heal at least 200 damage with Take Aim! in one game as Khita

One Shot, Four Kills
Deal 200 damage with Fusion Pulse in one game as Nix

Phenomenal Cosmic Power
Deal more than 250 combined damage and healing with Cosmic Flare in one game as Orion
Rebel With a Cause
Deal 200 damage with Run and Gun in one game as Lockwood

Same Day Delivery
Deal 150 damage with Shock Pod in one game as Garrison

Shield to the Face
Deal at least 200 damage and dodge at least 100 damage in one game as Brynn.

Shield Wall
Deal 150 damage with Aegis Protocol in one game as Rampart

The Artful Dodger
Dodge 150 damage and deal 500 damage in one game as Oz

The Only Way To Be Sure
Deal 200 damage with Scorched Earth in one game as Blackburn
The Power of Friendship
Heal or Shield 10,000 Damage

There Can Be Only One
Deal 150 damage with Deathblow in one game as Titus

Unleash the Beast
Heal for 75 health with Augmented Regeneration and deal 100 damage with Uncontrollable Fury in a single game as Rask.